| | |
| --- | --- |
| Posted by terribell on March 26, 2019 at 1:05 PM | |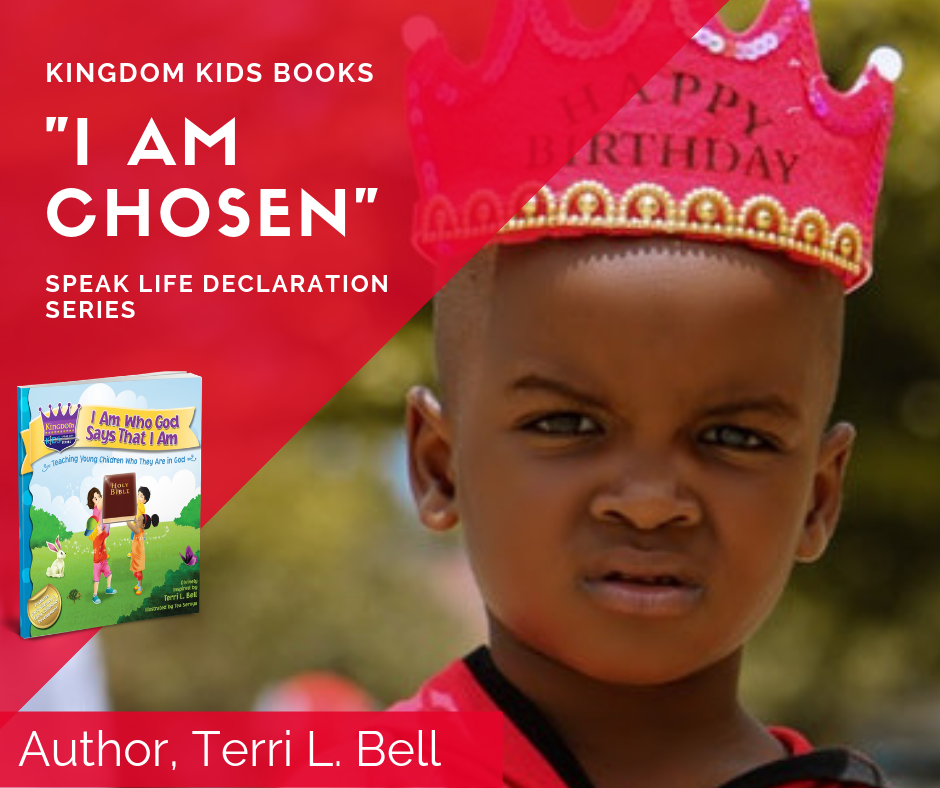 Hi Everyone, so sorry for the delay, I've been traveling and finally getting a chance to get my life together. (smile). Here's another declaration from my book, "I am who God says that I am".
We declare, our children are "CHOSEN"!
I love this declaration because it speaks to the heart of Kingdom Kids Books! I'm on a mission to teach children this truth...You are CHOSEN by God! Created by God! You are His CHILD, created on purpose for purpose! So, how do we instill this concept into the lives of our children?
Give em' the TRUTH! Jesus says to us in John 15:16, that "You did not choose me; I chose you and appointed you to go and bear much fruit, the kind of fruit that endures. And so the Father will give you whatever you ask of him in my name."
Let me break this down. Here's the TRUTH! You were NOT a mistake! Your child is NOT a mistake! God has created each of us and "appointed" us to live a life that will be a blessing to others. To "appoint" means to: NAME, ASSIGN to a position, give AUTHORITY, to PROVIDE, EQUIP, FURNISH and ESTABLISH!
Come on now...This is the promise God has spoken over our lives and the lives of our kids. We are NOT bastard children. We are Kingdom Kids; Heirs of the King! A Royal Priesthood; Kings and Queens. That's the perspective we MUST live from; the truth we MUST take ownership of. If you (as an adult; parent, educator, teacher, etc.) don't walk in this, we will not be able to give it to the children we love and care for or anyone else.
So, take God's word and hide it in your heart and release this truth all over your child(ren). My book is a great resource for imparting these kingdom concepts into the spirit-man of young children. For older kids, take this passage in John 15 and begin to have dialogue with your son/daughter. Ask them what does the verse mean to them and what is the challenge in believing?
We gotta be purposeful in sharing God's love with our children. We don't have to beat em' over the head with a Bible; clearly that doesn't work but you can create a lifestyle that includes God (family prayer, devotion, reading etc.) and represents Him and His great LOVE for us.
We can do this. If you aren't sure how to start, ask the Father. He loves sharing His heart with His sons and daughters. He's a Good, Good Father! I ain't God but you can PM me and I'll point you in the right direction like someone did for me.
Now that you know the TRUTH, let's go get em'! Love hard and spare not...
Have a WONDER-filled day and a GREAT week with the Lord!
Terri
Categories: None